How to create a PEEL Paragraph Writing Strategy?
Last update June 12, 2023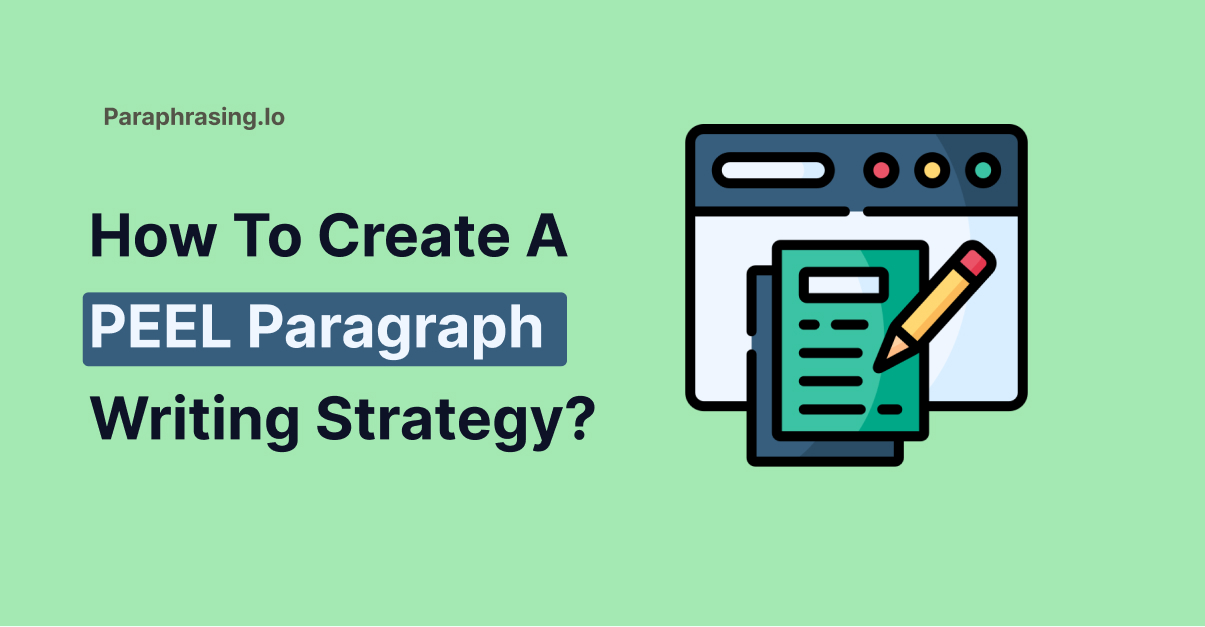 By learning the PEEL strategy, a professional looking to improve communication skills can greatly improve their writing. By giving students a structure for their writing, the PEEL paragraph writing strategy facilitates their writing process.
Your thoughts and ideas can be coherently and effectively organised through writing. Giving your paragraphs a clear structure with the PEEL paragraph writing approach is helpful.
You may make sure that your writing is well-organized by using the PEEL strategy. Additionally, it can guarantee that the reader receives your message clearly in your writing.
Let's learn how to develop a PEEL paragraph writing strategy to make your writing more engaging.
What is the PEEL paragraph?
The abbreviation for the PEEL paragraph is Point, Explanation, Evidence, and Link. You can better organise your writing by using paragraphs. They focus on one idea or subject. A topic phrase that introduces the paragraph's concept usually comes first in a paragraph.
Using the acronym PEEL will make it simple for you to keep in mind how to format effective paragraphs. This format makes your writing flow easily and makes it easier for the reader to comprehend your points.
The PEEL approach is quite effective since it makes it easier for you to convince people of your points of view. PEEL is a particularly effective strategy because it enables you to apply yourself at the highest levels.
Components of the PEEL Framework
It's a style of writing that enables students to easily and completely build their writing projects. It enables people to connect beliefs and facts with supporting data. It eliminates the filler and keeps your writing focused, direct, and interesting.
Let's examine the PEEL's components to comprehend how each one contributes to the overall framework of a paragraph.
POINT
Looking at the PEEL framework, you begin with the "P," or POINT, in your introductory paragraph. Making your argument in this situation requires being clear and straightforward.
This could serve as your topic sentence or opening sentence. Where you inform the reader of the argument you're making and the subject of the paragraph they're about to read.
EVIDENCE
Use evidence and illustrations to back up your claims at this time. In academic writing, the focus is always on the evidence and sources you use to back up your claims. The supporting details must be useful, reliable, and capable of convincingly proving your claim.
While proving the accuracy of your argument, you want to earn the reader's trust. One of the simplest ways to do this is to incorporate evidence into your writing. In the end, you want the reader to understand that your arguments are supported by measurable facts.
It's essential to provide evidence to support your claims if you want them to be believable and effective. This can be knowledge from the past or present, figures from research, or any other proof that reinforces your case. By including evidence, you give your work more credibility and give your claims a firm basis.
EXPLAIN
After including your evidence in your piece of writing, you should explain. While adding any evidence is fantastic and frequently helps to clarify your idea.
You must provide an explanation when you add evidence. By describing the significance of the evidence and the benefits of the data, your reader sees the bigger picture.
Every reader will have a distinct perspective and may even disagree with you on a particular problem. In order for the reader to comprehend the relevance of the evidence you employed and how it pertains to your argument from your point of view, it is crucial to clarify its significance.
Explain, clarify, and develop your key point. Here's where you should give the reader background or other relevant details that will help them recognise the importance of your claim. The explanation should provide just enough data to back up your claim without boring the reader with useless details.
Remember that the PEEL technique allows you to swap out evidence and explain if that makes more sense to you.
LINK
It's now time to finish your paragraph.
You must now make the link between the point of the present paragraph and the point made in the following paragraph. You might also go back to your main point at this point, or you could present the opposing viewpoint.
Think about linking as a way to connect all the important ideas you want to discuss. Linking takes place immediately after a paragraph. Considering that it serves as a portal to your next location, where the PEEL process will begin all over again.
The link should provide a brief synopsis of the paragraph. It creates a logical link between the current idea and the paragraphs that follow. It promotes consistency and guarantees an easy flow of ideas throughout your work.
Effective ways of writing a PEEL paragraph
It will be simple for you to create a wonderful essay if you are aware of the correct steps to follow.
Here is a quick guide that you can apply when you use the PEEL method in your essay.
Planning Your Essay
This is a simple yet essential topic for your essay. The largest error writers make is starting out without a plan for their essay. Because of this, individuals struggle more when writing and can't produce a quality essay.
Therefore, always create an essay outline before you begin writing. Everything, including the introduction, the argument, the supporting evidence, and the organisation of the paragraphs
This will make it easier for you to write well and less difficult for you to locate the necessary information.
Writing on your topic
After planning, state the concept clearly and introduce it to the reader in one line. Your paragraph should respond to the query that identifies the essay's main concept. By giving some concrete examples, it aids in the development of further information.
Unless you are writing a personal essay, try to refrain from utilising pronunciation when writing. Make sure you select the ideal essay topic. Considering that it will help readers become interested in your subject.
Add supportive and best examples
Your topic sentence will benefit your essay if you support it with solid examples. But your topic won't be considered valuable if you don't include any supporting data.
Make sure to collect a number of examples that will help to support your issue while you perform your research. Make an effort to select an example that demonstrates a thorough comprehension of the problem.
Explain your examples
Make sure your sentence conveys the most information when you offer your example and your PEEL paragraph. Make an effort to write your sentence so that the readers won't think it's out of place. Your main concern is that your readers comprehend your example completely.
You must explain your reasoning for selecting this example. What message is being conveyed by your example, and how will the reader interpret it? To fully explain your example, use at least two to three sentences.
Add linking statements
When you finish a paragraph, make sure the first sentence of the subsequent paragraph links to the previous paragraph. Your sentence should tie together a broad argument from your paragraph. Include a summary of your context and the notion you have just expressed in your conclusion sentence.
Proofread and edit your paragraph
Once the essay is finished, proofread it. It's important to edit and proofread your paragraph. Search for your errors. Verify readability, sentence structure, grammar, and spelling mistakes. You may correct your faults by reading it aloud, reading it backward, or using any internet tool. Once the errors have been fixed, your work is ready for submission.
Important tips for writing a PEEL paragraph
The following are some crucial pointers to keep in mind while you create a paragraph using the PEEL method for your essay:
Write the essay in an official style.
Use the third person point of view when narrating.
Never use the first person or second person to write your essay.
Use apostrophes with contractions.
In the first paragraph of an essay, avoid using personal pronouns.
Try not to write the essay in an identical manner.
Advantages of using the PEEL strategy
The author can incorporate the engagement part of the article using this tactic.
It increases the spotlight on your content's key theme.
This is thought to be the most trustworthy and appropriate method of adding proof to your academic writing.
This enables the author to combine the current data in a way that balances the effort from the past and the present.
The PEEL paragraph will increase the impact of your essay.
Using the PEEL format will make it easier for your readers to comprehend your theme.
There was no waning of reader interest.
You can write your essay in a continuous stream using the PEEL framework.
This will guarantee that your essay is precise and on point.
Your grades will improve overall with the help of the PEEL structure.
Conclusion
The clarity, coherence, and impact of your writing can all be considerably improved by perfecting the PEEL paragraph writing strategy. You can effectively communicate your ideas to the reader by following the step-by-step procedure for writing a PEEL paragraph and including the key components of point, explanation, evidence, and link. You can further improve the quality and impact of your writing by putting the advice for writing PEEL paragraphs into practice.