4 Writing tricks for effective content writing
Last update April 10, 2022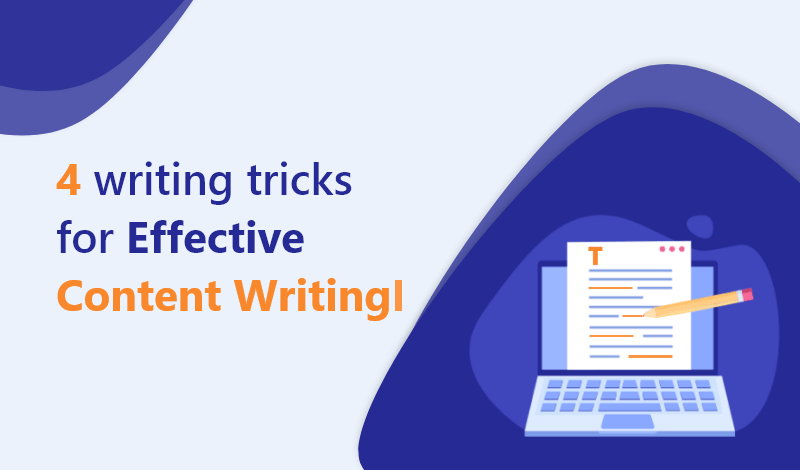 There is no rocket science to write effective content, all is needed to follow some winning steps and some useful tricks.
But it is not wrong to say that it is not that easy until or unless you follow some tricks but, we are talking about what tricks?
Some people may be unaware over these tricks and that is why we are writing this guide and after reading this guide, you will surely prepare mind-blowing content.
And especially, if you are a newbie or you are a writer by profession then this guide will surely help in making your writing projects easier and amazing.
But before getting to the tricks, we need to understand first which things are needed to focus on in the content.
Major parts of the content
As there are many factors and parts of an article or content in any form either it is an educational document or internet content.
There are four major parts of a content and the below-discussed tricks are also according to these major parts.
Title
Body
Media
Conclusion
We can say that you need to optimize these 4 things to make your content considerable as the best and informative.
But how can we optimize these 4 major parts of the content?
All you need to read this guide to the end and you will be the master of writing a well-written article so, have your attention.
Top writing tricks to make a content best
Making content best is not limited to few steps but it is not wrong to say that these few steps can help you a lot.
Let us begin from the beginning and elaborate on each of the tricks.
Generate a clear title:
As it is mentioned above that many steps are badly needed to make content more readable and amazing so, title generation is one of them.
It is not wrong to say that the title of an article encourages or discourages a reader to read your content and thats why we need to generate a clear title.
What is a clear title?
Generating a clear title means that the information you are going to share in your content must be present and mentioned in your title.
If the reader just read the title, they must get to know the central idea of the content and thats something really important.
So, it is pretty cleared that the title must be direct and relevant and it is something discouraging to use an irrelevant title.
If your preference is to make a permanent audience then you must show your best writing skills from the beginning and the title is the very first impression of your content.
Add the unique and well-researched information:
As it is mentioned above that many steps are badly needed to make content more readable and amazing so, title generation is one of them.
Having unique and well-researched information will surely pay you in many aspects either it is related to your rankings, audience, and financial aspects also.
So, the very first thing that is needed is to do proper research and then you can easily write mind-blowing content.
But keep one thing in mind that researching on the internet does not mean you copy the information as it is published on the internet.
If we do this, we will surely be charged for using plagiarized content and it is something we must avoid and there are many steps to avoid it.
And we can check the uniqueness of content by using plagiarism checkers before publishing it on the internet.
According to research, using media in an article can easily impress and grab the attention of audience but the condition is, it must be attractive and effective .
We need to keep in mind that media use in the blog must be compressed because it can be easy to load faster.
A reader can invest only 3 to 4 seconds and we need to present the complete blog in these seconds and if we fail, the reader will ultimately switch to the other website.
Many things are included in the media like pictures, videos, and Gifs so, we can use any of them and make a blog more attractive and readable.
We can use any website that can compress the pictures and these websites are readily available on the internet.
Give the best final words:
The last but not the least thing is your conclusion, many people will not read the whole content and they directly scroll down to the conclusion.
So, the conclusion must be a reflection of the whole content and it must be written in a way that the information of the whole content will be wrapped up in a single paragraph.
The ending of content is also important because it has a call to action and it encourages the audience to do what you want them to do.
And the tone of your article must be friendly and informative as well so, it can surely help you rank higher.
Conclusion
As it is mentioned above that writing amazing content is not so difficult because all you need to invest your creativity and follow the above-discussed tricks.
By following these tricks, you will surely get unique and well-written content that can easily grab the attention of your audience.