(After enter text press the button below)
upload file

(.txt/.doc/.docx)
{{ getWordCountInput(text)}}
/ 500
Paraphrased
words:&nbsp
{{ getWordCount(responseTextRaw)}}
characters:&nbsp
{{ getCharCount(responseTextRaw)}}
words:&nbsp
{{ getWordCount(responseTextRaw)}}
characters:&nbsp
{{responseTextRaw.length}}
Paraphrasing Tool
Enhance text clarity and understanding using an AI-driven paraphrasing tool. Perfect for students and professionals, this tool rewrites, edits, and adjusts tone for improved comprehension.
Rephrase sentences, paragraphs, essays, and articles effortlessly with our powerful paraphraser. Prevent plagiarism in blogs, research papers, and more using cutting-edge technology
It works effectively to rewrite the content in a way that removes plagiarism, maintains readability, and makes the content considerably more appealing.
Leverage any of its four paraphrasing modes to rewrite the content as required. It enables you to rewrite the content using the standard, fluency, creative, or smarter paraphrasing modes, each of which resonates with a distinct writing style.
Using groundbreaking AI technology, our paraphrasing tool lets you rewrite the content with the utmost accuracy. It neither changes the context nor compromises the content quality. No matter which type of content you are working on, you can run it through our paraphrasing tool and perfect it by all means.
The users including writers, bloggers, researchers, students, and any layperson can get the best out of our online plagiarism remover for free. It facilitates quick paraphrasing of 500 words in one attempt.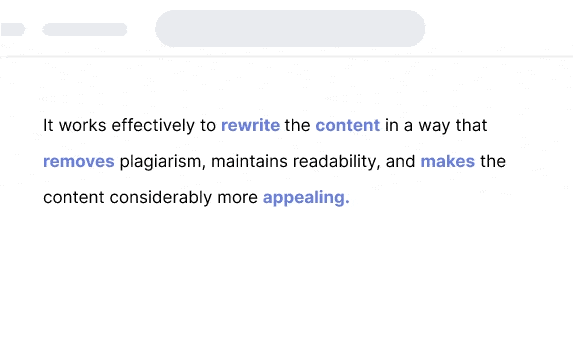 MAKE YOUR CONTENT UNIQUE, ENGAGING, AND EASY TO READ
Use Paraphrasing.io to rewrite your content in original and improved wording that stands out from the rest. Change the choice of words and the way words are combined to construct sentences, achieving uniqueness and creativity in writing. Rewrite your content to ensure that it is free from potential writing errors and perfectly crafted to meet the target audience's needs.
Remove the Plagiarism
Eliminate duplicate phrases, clauses, and sentences to make the content unique
Improve Content Quality
Correct grammar, punctuation, spelling, and diction errors to enhance the readability score
Modify Writing Style
Modify the choice of words to change the tone and rewrite the content in different writing styles
FEATURES
Paraphrasing.io, the best sentence rephraser, thoroughly analyzes the given content to understand the context and then rewrite it with an intention to:
User-friendly Interface
Anyone can easily find, access, and use this tool to paraphrase the content from a beginner to an expert.
Improved Functionality
This tool uses advanced AI algorithms to ensure that the content is paraphrased without errors and delays.
Error-Free Results
This paraphrasing tool skillfully rewrites the content as it works effectively in terms of accuracy and efficiency.
Multiple Rewriting Modes
Four different rewriting modes are available, which lets you change the tone and style of the writing without changing the context.
Multi Languages Support
There are 15 different languages available, any of which you can choose to rewrite the content as required.
Safety and Privacy
The content is paraphrased with absolute precision and automatically removed from the tool's database upon reloading.
Free Unlimited Access
Users worldwide can access and use this paraphrasing tool without any premium fee and limit.
Optimize the Content
Maintain readability, uniqueness, and creativity in content to make it search-engine-friendly.
How paraphrase online can enhance your writing?
Whoever creates content is well aware of the fact that uniqueness has great importance in writing. This is because duplicate content is not accepted anywhere. Even if a few phrases or sentences are similar to previously published content, it is considered plagiarism. To paraphrase online, you can easily remove plagiarism from the content.
Must be
unique words
The content must be created using unique words, whether for the web or any academic assignment. Anyhow, it isn't easy to write unique content. It is error-prone and time-consuming.
Readability and
creativity
Take into account some more essential factors in writing: readability and creativity. The words you choose and how you combine them must be easy-to-read and creative enough to hook and engage the readers. Unfortunately, there can be various writing errors, such as misused and misspelled words in your writing. These writing issues can ruin your content quality, leaving no chance for a high ranking or score.
Unique and
appealing
The students, researchers, and content writers can use an online paraphrasing tool to rewrite any content and make it 100% unique and appealing. The online rephrase tool uses advanced "artificial intelligence" algorithms to rewrite a piece of content to make it free from plagiarism and writing errors.
Multiple
rewriting

modes

For instance, you can use our word paraphraser then. It will take only a second to provide you with a unique and improved version of your content. There are multiple rewriting modes available, any of which you can leverage to change your content's writing style and make it much more captivating for the target audience.
How does our
free paraphrasing tool

work?

Our free online rephrasing tool is based on artificial intelligence algorithms that help in attaining uniqueness in less time with accuracy. Paraphrasing.io is considered as an ai-based free rewording tool that makes content unique by replacing the words with synonyms while keeping the content quality high.
Paraphraser.io contributed to the development of this great tool.
Who can provide
excellent services

?

There are so many online paraphrase companies that offer help with many writing types of assignments and a host of others that it can be hard to know which to choose. documents, texts, articles - when it comes to paraphrase this, you need a professional such as we have that offers to refresh the given paper using a vast amount of experience in their fields of expertise.

Software and inexperienced writers will paraphrase text and swap individual terms for their synonyms. Not only is that likely to still be seen content piracy as the structure and order of wordings as are still the same but it will often not maintain the original meaning and will often use phrases that are out of context and will make the text meaningless as best.
Why should you consider

paraphrasing.io

?

This paraphrasing tool provides various reasons and features by which we can easily differentiate this tool from any other online rephrase tool.

The reasons why you need to choose this sentence rephraser are listed below.
Search-engine optimized content
Provides good readability
Use proper synonyms
100% duplication-free content
How to use Paraphrase Tool?
To use best paraphrasing tool follow the 4 simple steps given below:
Paste/write it into the text box or upload file in txt, doc, and docx format
Modes `Regular`, `Formal`, `Creative`, and `Academic` to modify concerning.
Click "Start Paraphrasing" button to rephrase and get an error-free, unique version of the content